"If you're wondering why you entered menopause
earlier or later than other women, blame your mother.
That's because numerous studies have confirmed…".1
Mother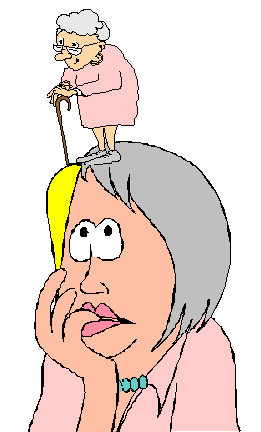 Do women enter menopause around the same age as their mothers?
In Genetics Play Strong Role In Determining Age of Menopause and Overall Longevity the North American Menopause Society (NAMS) elaborate on:
"If you're wondering why you entered menopause earlier or later than other women, blame your mother. That's because numerous studies have confirmed the role of genetics in determining a woman's age at menopause".2
In Managing Menopause: Don't Let Symptoms of Menopause Reduce Your Quality of Life – When Is Menopause? the (Australian) Jean Hailes for Women's Health explain:
"When you reach menopause may be influenced by the age you had your first period, the age your mother underwent menopause, or the length of your menstrual cycle; women with shorter, more frequent cycles may reach menopause earlier".3
Health Care Provider
What if would like to find out more about my menopause?
If you would like to find out more about your menopause, it may be in your best interest to speak to your health care provider about this. Together you can discuss your options and if required, agree on who may be the most appropriate health care provider to help you.
Health Topics A-Z
Where may I find Health Topics A-Z related to Mother's Menopause?
In Health Topics A-Z you may find:
Links
Where may I find Links related to Mother's Menopause?
Your Country may have Links similar to:
Sources
Where may I find the Sources quoted?
You may find the Sources quoted at:
https://www.menomartha.com/wp-content/uploads/2020/03/MenoMartha-2020-logo-340.png
0
0
MWD
https://www.menomartha.com/wp-content/uploads/2020/03/MenoMartha-2020-logo-340.png
MWD
2023-09-25 05:52:22
2023-09-25 16:04:43
Mother's Menopause