October is World Menopause Month. "The International Menopause Society, in collaboration with the World Health Organization, has designated October 18 as World Menopause Day".

In World Menopause Day: World Menopause Day 2017 the International Menopause Society (IMS) explain about their Patient Information Leaflet:
"This Patient Information Leaflet is a guide to Perimenopausal Bleeding, its causes and the treatments available as well as a call to women entering mid life to ensure they seek professional advice if they have any concerns about Abnormal Uterine Bleeding as it can be a symptom of other more serious conditions".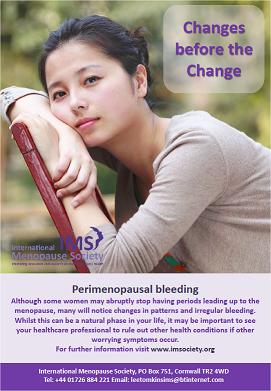 On page three in their Patient Information Leaflet Changes Before the Change: Should I Visit My GP? the IMS explain:
"Many women experience Abnormal Uterine Bleeding (AUB) during perimenopause. AUB is defined as bleeding that differs in frequency, regularity, duration or amount to your regular menstrual bleeding. Changes to the menstrual cycle often carry no significant consequences; however, they could have a range of causes. So, although it may simply be a symptom of perimenopause, it is still sensible to raise the issue with your healthcare professional".
Who is a GP?
DotS (Depending on the Source) and/or DotC (Depending on the Country) a GP may be a qualified and registered general practitioner, a medical practitioner, a medical doctor or a doctor.
Health Topics A-Z
Where may I find Health Topics related to World Menopause Day What's Hot?
In Health Topics A-Z you may find:
Links
Where may I find Links related to World Menopause Day What's Hot?
Your Country may celebrate World Menopause Day 2017 and have Links similar to:
Links
This Links List to third party websites is neither comprehensive nor exhaustive. Inclusion on this Links List does not imply endorsement or recommendation. Non-inclusion on this Links List does not imply non-endorsement or non-recommendation. Third party websites are not under the control of Meno Martha International Menopause Directory. Third party websites may contain explicit medical images and/or sexual references. Please read Meno Martha International Menopause Directory's Links Policy before proceeding to a Link. Please contact Webmaster if you experience a problem with a Link.
Last Updated: 31 July 2018 – Last Revised: 31 July 2018
https://www.menomartha.com/wp-content/uploads/2020/03/MenoMartha-2020-logo-340.png
0
0
Meno Martha
https://www.menomartha.com/wp-content/uploads/2020/03/MenoMartha-2020-logo-340.png
Meno Martha
2018-07-01 00:33:05
2021-08-22 19:52:19
World Menopause Day What's Hot